The world of technology has completely changed the world of banking! Remitting money abroad or simply money transfer from India , as we call it, could not have been easier than what it is these days. While the strictest of measures are employed to check the authenticity of the transfers, all the validations are done at the end of the banker or the service provider, while the customer is put to ease by the whole process and the various options of money transfer available to him.
For forex money transfer from India, place your bet on BookMyForex. It is the world's largest online currency exchange marketplace and even offers you great deals on money transfer from India. With BookMyForex, you can do forex money transfer from India in the fastest possible time with zero bank charges. Your transfer gets processed in less than 30 minutes and funds are received in less than one working day. For all these services for money transfer from India, you really pay no bank fee! Unbelievable, but true!
Here are some easy ways in which you can remit money abroad from India.
To be able to do a wire transfer from India, you need to have a valid account number and details of the account to which the money has to be transferred. Most of the banking institutions ask for proof or an invoice supporting your payment and a copy of the same has to be presented while remitting the money, depending on the value of the transfer.
Foreign Currency Demand Draft
This method is best used by students or their parents when they are in need to deposit fees of educational institutions or pay for application forms while applying. This is an extremely simple and safe method of remitting forex as the account holder's name and details are the only things needed while creating a demand draft. There is of course, a fee for making foreign currency demand drafts and varies from amount to amount.
Third Party Transfer Service
This method enables you to park your money with a third party holder and use this 'wallet' to carry on your outward remittances whenever you need them. Even non account holders can register on these third parties like BookMyForex and avail benefits of easy remittance. However, safety measures like OTPs and verifications are employed when you make transactions through these services for prevention of fraud.
Log on to www.bookmyforex.com today to know more about money transfer from India at guaranteed best rates. You could also download the BookMyForex app that is available for both Android and iPhone users. Call 09212219191 to know more.
Read More :-  Foreign exchange rate,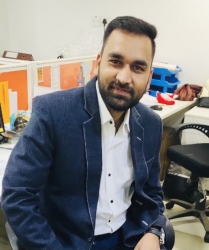 Latest posts by Manik Varshney
(see all)