Getting the best available SGD Rate Today with BookMyForex
Live Foreign Exchange rates are very much different than what banks show you in the name of Today's Singapore Dollar Exchange Rates. If you are looking to get foreign exchange at live rates, you can check the full rate card at BookMyForex where currency rates are updated in every 3 seconds. BookMyForex is India's first and largest currency exchange marketplace which provides foreign exchange at live rates and thereby ensuring that you get the best Singapore Dollar rate in your city.
Singapore Dollar Profile
Singapore Dollar is the official currency of Singapore. It is also abbreviated as SGD in the international currency exchange marketplace. Singapore Dollar is represented as S$ to differentiate it with other dollar-denominated currencies. SGD is further subdivided into 100 cents. The monetary authority of Singapore is the issuing authority of Singapore dollar banknotes and coins.
Interestingly, apart from being a legal tender in Singapore, SGD is also accepted as a customary tender in Brunei. Similarly, the Brunei Dollar is also accepted as valid currency in Singapore.
Click Here to Know More About Singapore Dollars
Singapore with its amazing beauty, interesting food and multiple islands has emerged as the ultimate tourist destination for Indians. In case you are planning to travel to Singapore in the near future, you would certainly require Singapore dollars to transact there. You can now buy or sell SGD at the best Singapore dollar exchange rate in your city online with BookMyForex.com which is India's first and largest online currency exchange marketplace.
Why Should You Purchase Singapore Dollars from BookMyForex?
Being a digitally enabled currency exchange marketplace, BookMyForex provides numerous advantages on foreign currency exchange services compared to other vendors such as banks or local money changers. The best among them is the lowest exchange rates without any hidden charges. 
Let's understand why BookMyForex provides one of the best rates on buy/sell Singapore Dollar (SGD) compared to other places.
Fixed vs Live Rates:  Unlike other authorized forex dealers which provide foreign exchange at fixed rates in the name of "Today's Singapore Dollar Rates", BookMyForex allows its customers to convert INR to SGD at the live rates. You get the most updated Singapore Dollar at BookMyForex forex rate platform. 
Fixing the Singapore Dollar exchange rate for the whole day compels banks and other money changers to keep the higher-margin to tread against any adverse volatility during the day. While, BookMyForex provides its customers with the most recent rate of the foreign currency and thereby, passes the benefit to its customers in the form of the better exchange rate.
Individual vs Aggregator: Being a digitally powered currency exchange marketplace, BookMyForex compared the best Singapore Dollar exchange rate to convert SGD to INR in India among 100s of currency changers near to your location and provides you with the best exchange rates.
On the other hand, to get better rates from banks or such other places to buy/sell Singapore currency you need to go from one bank to others to check and compare the rates which could be a time consuming and tiresome process.
Doorstep Delivery: When you buy Singapore Dollars from BookMyForex, you not only complete the process of booking from the comfort of your home but you also get your currency delivered right at your doorstep.
Rate Freeze Feature: With this feature, you can 'lock-in' a specific rate for up to 3 working days by paying a refundable deposit of 2% of your total amount. 
Better SGD Exchange Rates than Banks
Though you can purchase foreign exchange including Singapore Dollars from multiple places in India such as from your bank, a nearby local money changer or at the airport itself but a well-known currency exchange marketplace such as BookMyForex which function on aggregator model and provide Singapore Dollars at live rates, fares better than banks.
Here is a comparative analysis between BookMyForex and other money changers such as a bank, showcasing the reasons why bookmyforex is better on key parameters:
| | | |
| --- | --- | --- |
| Parameter | BookMyForex | Banks/Money Changers |
| Exchange Rate | At Live Rates (Dynamic) | At Fixed Rates |
| Exchange Rate Margin | Low | High |
| Online Order Facility | Yes | No |
| Doorstep Delivery | Yes | No |
| Rate Alert Feature | Yes | No |
| Branch Visit | No | Required |
How Can you buy SGD at the best exchange rate?
Getting Singapore Dollars in India has never been easier. You can just follow simple steps mentioned below to get Singapore Dollars delivered directly to your home at the best SGD rates in your city. 
Step 1: Go to BookMyForex.com or simply call at 9212219191
Step 2: Select your city, the currency (INR to SGD) and enter the amount that you want to exchange
Step 3: Upload KYC documents mandated by the RBI which includes Passport, Visa, Air Ticket    and PAN card details
Step 4: Opt for doorstep delivery or collect your currency from our nearby store on successful payment. That simple!
Benefits of Purchasing Singapore Dollars from BookMyForex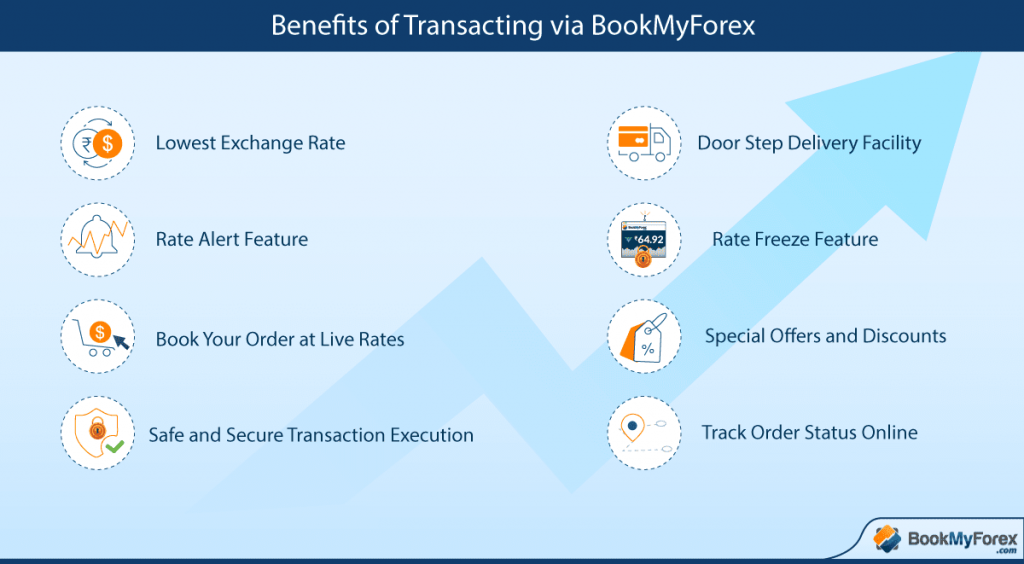 Rate Alert to Track SGD Online Rate
Using the rate alert feature available at BookMyForex.com, you can save yourself from keeping a continuous track of Singapore Dollar rates. The rate alert feature allows you to set the SGD rates at the levels you want to buy or sell and then BookMyForex automatically notifies you when SGD Rates strike that level pre-set by you. 
Frequently Asked Questions (FAQs)
Q1. Which place is the best to exchange INR to SGD in India?
Ans. You can purchase Singapore Dollar from multiple places in India such as from a nearby bank, some local money changer, at the airport or from an online currency exchange marketplace. However, if you are also looking for the best Singapore dollar rates and great convenience, you can opt for a trusted currency exchange marketplace. 
Being a digitally enabled platform, BookMyForex checks and compares Singapore Dollar rates quoted by 100s of money changers available near to your location and provides you with the best SGD rate. You can place your order online with the comfort of your own home and get your forex delivered directly to your doorstep. 
Q2. How can I get the best SGD rate in India?
Ans. Here are a few tips that can help you in getting the best Singapore Dollar Rate or SGD rate in India.
Buy or Sell SGD Online: Banks or local money changers provide forex at a fixed rate for the day, while a trusted online marketplace for currency exchange such as BookMyForex provides foreign currency at live and transparent rates which can save you money.
Compare SGD Rates & Buy: It is always better to first compare foreign exchange rates on different platforms and then buy it. Being a digitally enabled market-leader, BookMyForex automatically does that for you by first comparing forex rates quoted by 100s of money changers near you and provide you with the best forex rate.
Avoid Getting Singapore Dollars from the Airport: By getting foreign exchange at the airport, you may easily end up paying anywhere between 6% to 9% more than the rates quoted by a marketplace. So strictly avoid getting forex from the airport.
Avoid Using Credit/Debit Card for Transactions in SGD: Due to various types of currency conversion charges, using a credit or debit card for forex transaction while travelling abroad may not be a good choice as you would be paying 3% to 6% more. If you want to avoid carrying a stack of cash, better buy a forex card and load it with Singapore dollars.
Q3. How much SGD can I carry to Singapore?
Ans. As per the Liberalized Remittance Scheme (LRS) of the Reserve Bank of India, a person can consume foreign exchange only upto 2.5 lakh US dollars or its equivalent to other currency cumulatively in a financial year. So you can calculate the limit upto which you can carry SGD for your Singapore dollar trip depending on your earlier consumption of foreign exchange in the current financial year. 
However, one thing you should keep in mind is that as per the RBI norms, you can only carry upto US $ 3000 or equivalent in cash while travelling abroad. If you wish to carry more Singapore dollars, you need to carry it digitally like by loading SGD on your forex card.
Q4. I need to sell my SGD currency, can I do it online?
Ans. You can both buy and sell Singapore Dollars online from a trusted currency exchange marketplace such as BookMyForex. You just need to visit bookmyforex.com and select your city, currency (SGD in this case) and the amount that you want to sell online. You need to upload your Passport copy which you can do online. Once your SGD to INR conversion order placed, a representative of BookMyForex would visit your place and give you equivalent INR and take SGD from you.