Getting the best available SGD Rate Today in Mumbai with BookMyForex
Singapore, with all its beautiful destinations, always sounds like a great idea for a vacation. If you are planning to visit Singapore anytime soon and are still looking to exchange Indian Rupees to Singapore Dollars, look no further. With BookMyForex you can buy Singapore Dollars from the comfort of your home. You can avail of the best Singapore Dollar Rate in Mumbai without having to engage with multiple money changers or banks.
Why does BookMyForex provide the best Singapore Dollar rate in Mumbai?
Buying foreign exchange in Mumbai proved to be a tedious task until www.bookmyforex.com came into the picture. Previously to buy Singapore Dollars, one had to visit several money changers and stand in long queues to get the best rates to convert INR to SGD and vice versa. However, BookMyForex world's largest online marketplace for foreign exchange does that for you.
Being a digitally enabled currency exchange marketplace, BookMyForex provides numerous advantages on foreign currency exchange services compared to other vendors such as banks or local money changers. The best among them is the lowest exchange rates without any hidden charges. 
Let's understand why BookMyForex provides one of the best rates on buy/sell Singapore Dollars (SGD) compared to other places.
Fixed vs Live Rates:  Unlike other authorized forex dealers which provide foreign exchange at fixed rates in the name of "Today's Singapore Dollar Rates", BookMyForex allows its customers to convert INR to SGD at the live rates. You get the most updated Singapore Dollar rate in Mumbai at BookMyForex forex rate platform.
Fixing the SGD exchange rate for the whole day compels banks and other money changers to keep the higher-margin to tread against any adverse volatility during the day. On the other hand, BookMyForex provides its customers with the most recent rate of the foreign currency and thereby, passes the benefit to its customers in the form the best Singapore Dollar rate in Mumbai.
Individual vs Aggregator: Being a digitally powered currency exchange marketplace, BookMyForex compared the best Singapore Dollar exchange rate in Mumbai to convert SGD to INR in India among 100s of currency changers near to your location and provides you with the best exchange rates.  On the other hand, to get better rates from banks or such other places to buy/sell Singapore dollar in Mumbai you need to go from one bank to others to check and compare the rates which could be a time consuming and tiresome process.
Just follow these four steps and receive Singapore Dollars right at your doorstep:
Step 1: Go to BookMyForex's website or simply call at +91-9212219191 or
Step 2: Compare exchange rates online and go with the one that offers the best rates.
Step 3: You will eventually reach BookMyForex Website.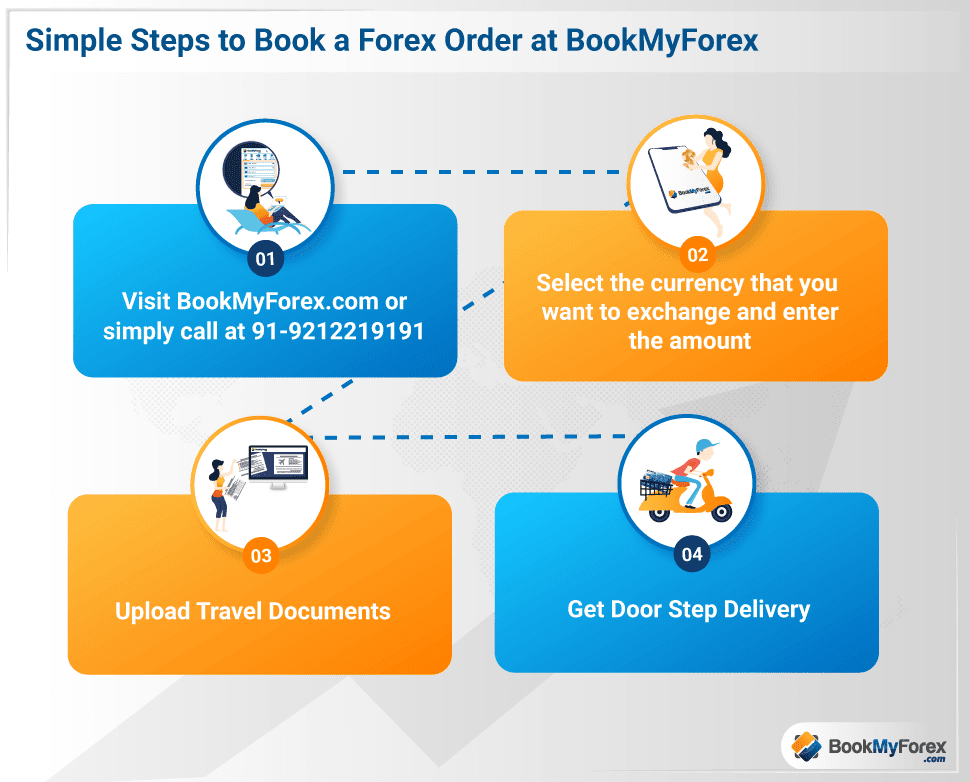 The best Singapore Dollar Rates for foreign currency exchange in Mumbai are with BookMyForex. And there are no hidden charges for converting currency apart from the government taxes.
How do you save money when you convert SGD to INR and vice versa at BookMyForex?
Live Rates for our Clients:  To ensure maximum benefits to our clients BookMyForex is the only platform in India that offers forex at live rates. At BookMyForex we do not fix the currency rates for the whole day. Foreign exchange market faces high volatility and if rates are fixed, a sudden change in the prices can cost you dearly. This happens because any platform which offers fixed rates is forced to keep large margins to sustain the business in a volatile market.   
Hold Rates for 3 Days: You can book the rates once it reaches the lowest level or touches the level you want to buy at. If you are still not sure, you can hold the rate for 3 working days (T+2 days)! To avail this service, you just have to pay 2% of the transaction amount in advance, which will be refunded later on the completion of the transaction.
Rate Alert Feature: BookMyForex offers a rate alert feature that will notify you when the rates reach the desired level as fixed by you. You can use this feature to your advantage and save yourself from the effort of continuous rate checks.
Special Student Discount: We incentivize students travelling abroad to complete their higher studies by offering special discounts on the education-related remittance or purchase of travel cards. We know finances matter, so this is our little way of showing concerns. 
Competitive Exchange Rates: We proudly say that we offer the lowest exchange rates in the market. At BookMyForex our customers are our priority and we make every possible effort to serve them well and be best amongst all the players in the Foreign Exchange Market.
Offers and Discounts: Have you availed the benefits of our Zero-Margin Campaign. Don't worry; we keep coming up with exciting offers for our customers. Customers are an integral part of our business so we keep working to enlighten them with great deals.