Getting the best available UAE Rate Today with BookMyForex
In the currency exchange market, currencies rates are quoted as a buy rate or sell rate. Different buying and selling rates are quoted by banks or money changers depending on variations in margins. Take an example of UAE Dirham to understand this. UAE Dirham buying rate is a rate at which currency exchange( a bank) allows you to Buy UAE Dirhams (AED). A selling rate is a rate at which you can Sell AED ( means convert AED to INR)at this rate.
At BookMyForex, you can not only check Live UAE Dirham Rates but also buy AED, sell AED or transfer AED at the live rates.
UAE Dirham (AED) Profile
United Arab Emirate Dirham is the official currency of the UAE. It is also abbreviated as AED in the international currency exchange market. Dubai is one of the most sought destinations in the UAE. 
Click Here to Know More About UAE Dirham
In case you are travelling to Dubai or to some other city in UAE, you would require UAE Dirhams to transact there which you can purchase from multiple places in India such as from a nearby bank or from local money changer. However, a more efficient and convenient way of getting foreign currency in India is via an online currency exchange marketplace such as BookMyForex.
Why Should you buy or sell UAE Dirhams from BookMyForex?
Being India's first and the largest online currency exchange marketplace where you can get a full suite of forex related products such as foreign currency notes, forex cards, wire-transfer, traveller's cheque etc.
Here is a comparative analysis of BookMyForex with other currency exchangers:
| | | |
| --- | --- | --- |
| Parameter | BookMyForex | Money Changers |
| Exchange Rate | At Live Rates (Dynamic) | At Fixed Rates |
| Exchange Rate Margin | Low | High |
| Online Order Facility | Yes | No |
| Doorstep Delivery | Yes | No |
| Rate Alert Feature | Yes | No |
| Rate Freezing Option | Yes  | No |
| Branch Visit | No | Required |
Why BookMyForex provides better UAE Dirham rates than Indian Banks and other money changers?
Banks and money exchangers worked on the concept of what's known as "today's AED rate" or "AED rate today" which is essentially a fixed rate for AED to INR conversion. Since foreign exchange rates are volatile even by seconds, such money changers keep a thick layer of margin over the underlying Inter-bank rates to counter any adverse movement in the exchange rate during the day.
On the other hand, BookMyForex provides UAE Dirhams at live rates displayed on its website which is very close to the IBR rate, thereby benefitting the customer in terms of better exchange rates. 
Advantage-Digital:
Most of the money changers in India have an institutional setup at the physical level which involves various kinds of fixed costs such as rent, salaries and other operating costs. The simple rule of economics tells us that all of these costs are ultimately borne by the customer in the form of higher fees and purchase price.
Being a digitally enabled platform, BookMyForex saves that cost and pass that benefit to the customers in the form of the best foreign currency exchange rates in the market.
Aggregator Model:
Being a currency exchange marketplace, BookMyForex first compares the exchange rate among the quotes provided by 100s of currency changers near to your location and then provides you with the best exchange rates. The principle of competition ensures you get the best exchange rate.
How Can I get Best AED to INR exchange Rates with BookMyForex.com?
Here are the simple 3 steps to get the best online Dirham Rates in India:
Step 1: You have to visit BookMyForex's website ( You can even call 9212219191)
Step 2:  or Check exchange rates online by entering Best AED Rates in (your location). You will see the current AED Rate prevalent in your city. We don't have a Today's Dirham Rate because no such thing exists. The Dirham Rates don't remain stagnant for a day. They fluctuate.
Step 3: You will eventually reach BookMyForex.com. You can enter your details and book order on our site. There is a form on this page wherein you can enter your details as well.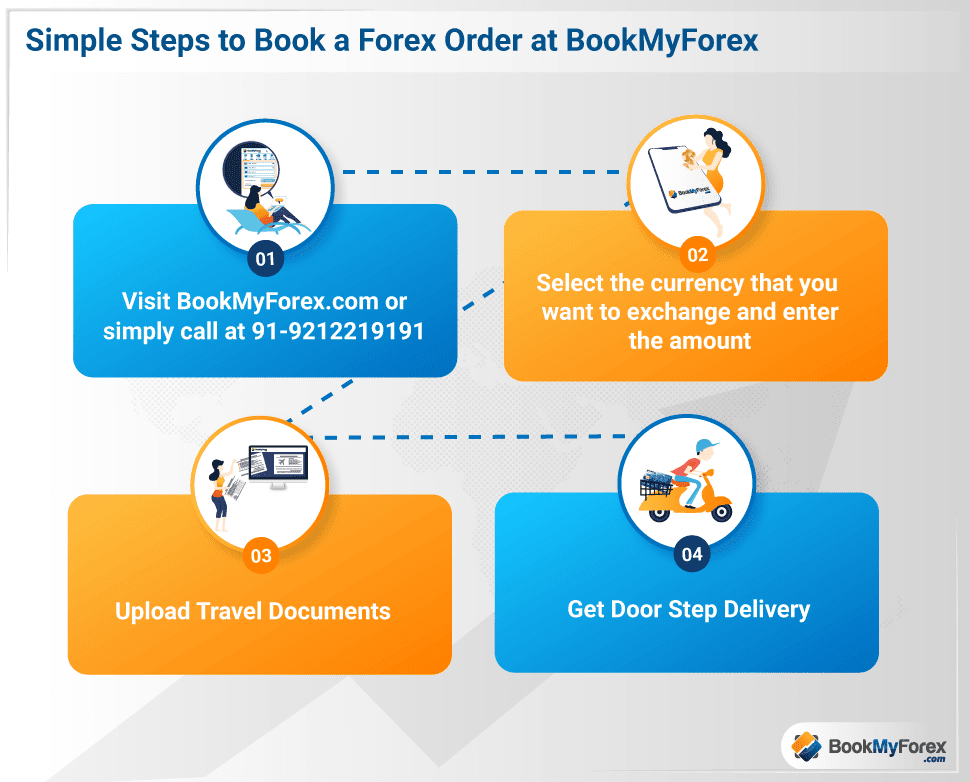 In India, BookMyForex has the best AED to INR Rates for foreign currency exchange. And the best thing is that there are no hidden or extra charges for converting currency apart from government taxes. Rest assured your search of Best Buy or Sell Rates of Dirham near you will always lead you to BookMyForex.com. 
Frequently Asked Questions (FAQs)
Q1. Where would I get the best UAE Dirham Rates in India?
Ans. Though you can buy or sell UAE Dirhams from multiple places in India such as from a nearby bank, a local money changer or at the airport itself but it is always better to purchase a foreign currency from a trusted currency exchange marketplace to get the best UAE Dirham rates as it compares foreign exchange rates provided by multiple money changers near you and quotes you the best AED rate.
Q2. How can I track the daily AED exchange rate in India?
Ans. You can visit the full rate card of BookMyForex which provides live currency exchange rates of more than 20 foreign currencies. In case, you want to buy UAE Dirhams at a particular rate, you can set a reminder using the Rate Alert Feature of BookMyForex where you would be notified as soon as the AED exchange rate strikes the pre-set level. 
Q3. How do I know if AED notes are genuine?
Ans. There is no particular way of determining the authenticity of the currency notes. However, you can avoid getting into the trap of fake currency, it is recommended to transact in foreign currency with a well-known and trusted currency exchanger. 
Q4. What is the rate alert feature to track AED exchange rate online?
Ans. With the Rate Alert Feature at BookMyForex.com, now you don't need to continuously track AED exchange rates. You can just enter the desired levels of UAE Dirham Rates at which you to buy or sell Dirhams and BookMyForex will notify you once the actual AED Dirham rates strike the level pre-set by you.
Q5. What is Rate-Freeze feature at BookMyForex?
Ans. In case you are not sure about the best UAE Dirham exchange rates, you can use Rate-Freeze feature at BookMyForex which allows you to lock-in the current Dirham rates for 3 working days for a 2% advance payment. The advance payment amount would be refunded to you once you complete your forex order at bookmyforex.