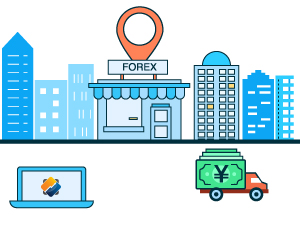 BookMyForex - India's most trusted platform for money exchange in Delhi
BookMyForex.com is the World's first and the largest online marketplace for currency exchange, forex cards and international remittance. We brought in transparency into the currency exchange market in Delhi. Now you can do Foreign Currency Exchange in Delhi online. BookMyForex.com has exclusive tie-ups with banks and money changers in Delhi and throughout India and that is the reason for our best rates in the Delhi Currency Exchange market. With our special tie-ups with these banks, you can buy currency in Delhi, sell currency in Delhi or send money abroad at one of our partner bank branches across India at rates better than what any other currency exchangers in Delhi can offer. We have the best foreign currency exchange rates in Delhi.
Foreign Currency Exchange in Delhi
BookMyForex.com revolutionized the foreign currency market in Delhi and for the first time, you can do money exchange in Delhi online and the order can be completed at a partner bank location or at one of BookMyForex.com's own locations that are present in most major neighborhoods including but not exclusive to Connaught Place, Nehru Place, Delhi Airport, Pahargunj, Karol Bagh etc. The best part is, order your forex online and receive your forex (or Indian rupee in exchange of your forex) at your home/office.
BookMyForex.com allows you to:
Why Choose BookMyForex's Money Exchange Service
Change your currency at rates better than the rates at kiosks doing currency exchange in Delhi airport, banks and other money exchangers in Delhi
Get Live market rates that are extremely competitive. No more rate haggling with your local Delhi Money Exchanger.
Book your forex at the exact live rates shown on our site. No exceptions, no surprises
Exchange your currency directly at banks. No more worrying about counterfeit notes, unreliable money changers in Delhi
Same-day or next day door delivery service. Free door deliveries for orders over Rs. 50,000
Ability to complete your order from hundreds of locations across India and Delhi
Save big on other travel-related products such as travel insurance and international calling cards
The best loyalty and referral awards. Earn every time you refer a friend/ family member. Save on every subsequent order
Best Customer Service- BookMyForex.com goes out of its way to deliver the best service standards to you-our customers.
BookMyForex.com-the Best Currency Exchange in Delhi
Rates play a big role when choosing the perfect currency exchange for yourself. At BookMyForex.com, you get the advantage of 'live rates' which are presented to you after sifting through the foreign exchange rates in Delhi provided by the forex vendors registered with BookMyForex.com in your area. Our rates are better than the local currency exchanger rates in Delhi. 'Freeze Live Forex Rates' feature lets you freeze the rate of the transaction by paying just 2% upfront and the balance payment can be made anytime in the next three working days wherein you will transact at the same rate irrespective of Delhi Currency market fluctuations. The 'Rate Alert' feature sends you an alert if the rate desired by you is seen in the market on any of the days. So, using this feature, you get to transact at the rate you always wanted to.
Stop Paying For Foreign Exchange in Delhi
Armed with a suite of brand new features, BookMyForex brings together a unique blend of technology, large countrywide presence, and quality customer support to provide our customers with the best currency exchange in Delhi. With BookMyForex.comm, you don't have to pay any hidden fees or charges to convert currency in Delhi. Exchange your foreign currency back into Indian rupees or Indian rupees to Foreign Currency at exact interbank rates - that's the same rates that you see on search engines, forex sites and business news channels.
Exchange Currency At Best and Live Rates in Delhi
BookMyForex.com introduced—for the first time in Delhi—the concept of live rates. You can see the live money exchange rates in Delhi online 24x7 on BookMyForex.com. We don't have today's rates or daily made up rates like other money exchangers in Delhi, our exchange rates are accurate to the last second. We operate on live and transparent rates that are available for all to see on our site. If you like a rate but want to shop around, you can freeze live rates on our site for up to 3 days. You can check the rates of other dealers and vendors who do currency exchange in Delhi but we beat and better their rates.
Frequently Asked Questions (FAQs)
Q1. Where can in Delhi I get foreign exchange delivered by BookMyForex?
Ans. BookMyForex delivers foreign currency at all the major as well as minor locations in Delhi which include Rohini, Punjabi Bagh, Janakpuri, Dwarka, Cannought Place, Phar Ganj, Vasant Kunj, Karol Bagh, Delhi Airport etc.
You can also call at +91-92122191 and a customer service representative would assist you regarding delivery locations in Delhi.
Q2. How to exchange foreign currency online in Delhi?
Ans. You can exchange foreign currency online in Delhi with BookMyForex which is India's first and the largest online currency exchange marketplace. You can either visit bookmyforex.com or simply call at +91-9212219191.
Q3. How come BookMyForex provides better foreign exchange rates than banks in Delhi?
Ans.Live Rates: While banks provide foreign exchange at a fixed rate for the day, BookMyForex lets its customer buy or sell foreign currency at live rates in Delhi in a transparent manner. Live rates are better than fixed rates and are closer to the Inter-Bank Rate (IBR).
Compare & Buy: Being a currency exchange marketplace, BookMyForex firstly scans through foreign exchange rates quoted by 100s of money changers in your area and then provides you with the best forex rates. So no need to haggle through multiple currency exchangers, you can just visit BookMyForex.
Digital Advantage: Due to its tech-powered digital platform, BookMyForex saves various kind of operational and administrative costs which are linked with typical brick and mortar money changers. The benefit is passed to its customers in the form of better foreign exchange rates than banks in Delhi.
Q4. Is it possible to buy currency at the rate indicated for a different city and get it shipped to Delhi?
Ans. No, it's not possible to do that on BookMyForex's platform. You have to choose the city you are living in and get it shipped to the said place which is Delhi in this particular instance.
Q5. Can Delhi's currency exchange rate come out different when you compare it to other cities?
Ans. Yes, most certainly. Forget different cities, different vendors/banks may provide different rates even within a city (Delhi in this case). It follows the simple rule of supply and demand. Foreign exchange rates are bound to be slightly more expensive in Tier II and Tier III cities when you compare them to Tier I cities like Delhi in this particular instance. If there aren't enough forex providers in a certain area, the chances are that the authorised vendors won't provide good currency rates. To tackle these issues, you can book your order on BookMyForex's platform which shows you the best possible live rates at that moment.