Getting the best available SAR Rate Today with BookMyForex
If you are looking for the best Saudi Riyal exchange rates to buy or sell Saudi currency in India, it is always better to go for Live Saudi Riyal exchange rates. Traditional places for foreign exchange do not show live rates. You can check the live INR to SAR exchange rates online at BookMyForex which is India's first and largest online currency exchange marketplace.
Saudi Riyal Profile
Riyal is the official currency of Saudi Arabia. It is abbreviated as SAR in the international foreign exchange market. One Saudi Riyal is made up of 100 halalah or 20 ghirsh. As is the case with most of the oil-exporting nations from the middle-east region, the Saudi Arabian currency exchange system functions on a fixed rate exchange system. The Saudi Riyal is pegged against the US Dollar at 3.75 SAR.
Click Here to Know More About Saudi Riyals
Saudi Arabia is a major destination for Indians looking for job opportunities in Gulf countries. Did you know that Indians in Saudi Arabia are the largest community of expatriates in Saudi Arabia? 
As per the estimates, about 41 lakh Indians are living in Saudi Arabia latest by 2017.
If you are planning to travel to Saudi Arabia for employment or some other purpose, you would certainly require Saudi Riyals to transact there. Now, instead of making in-person visits to banks or local money changers and paying more, you can get Saudi Riyals online at BookMyForex at the best Saudi Riyal rates in your city.
BookMyForex is India's first and largest currency exchange marketplace which provides a full suite of forex solutions including foreign currency notes, forex cards, travellers' cheque, wire transfer etc. 
Why Should You Purchase Saudi Riyals from BookMyForex?
BookMyForex aims to provide a seamless experience of currency exchange to its customers in terms of transaction cost and service quality. Unlike other money changers which provide foreign exchange at a fixed rate throughout the day, BookMyForex provides forex at live rates. Further, you can place your order online and get your forex delivered at your home. 
Best SAR Exchange Rates: BookMyForex.com shows you the base interbank rates that you can see on Business News Channels and online Search Engines. BookMyForex scans through rates quoted by 100s of money changers in your area and provides you with the best exchange rates. Our currency converter calculates rates based on the interbank rates or mid-market rates. You can buy or sell Saudi Riyals at the rates shown on our site, there is no hidden charge levied for currency conversion. 
Trust and Security: As per the foreign exchange regulations in India, you are required to provide with multiple documents such as your Passport, Visa, Airticket, PAN card details. In certain cases, you may even be required to furnish your Income Tax Return. 
While thinking about the safety of the data and documents as provided by the customers, BookMyForex has come up with the idea of watermarking the documents, every time the customer uploads it on the website. Watermarking clearly defines the purpose of use of the document and prevents from getting them misused for any other purposes.
Convenience:  With BookMyForex, there is absolutely no need to step out from your home to get forex. You don't get to make calls to multiple money changers to check for the currency availability and so. You can simply stay at home and order foreign exchange from your phone using the BookMyForex app! Not just that, you can also make payment online and also get your foreign exchange delivered directly to your home. It's that easy!
Better SAR Exchange Rates than Indian Banks
You must be wondering how come BookMyForex is able to provide foreign exchange rates than Indian banks. Being a currency exchange marketplace, BookMyForex firstly compares Saudi Riyal rates quoted by 100s of money changers nearby your location and then provides you with the best Saudi Riyal rates. Secondly, unlike banks which would provide SAR at a fixed rate for the day charging very high mark-up fee, BookMyForex provides SAR at live Saudi Riyal rates which is very close to the prevailing interbank rates. 
Here is a comparative analysis of BookMyForex with Indian banks to underscore the important points where BookMyForex has an advantage:
How can you buy SAR at the best prices?Step 1: Simply visit BookMyForex.com and search for live Saudi Riyal rates in your city. BookMyForex being a foreign exchange marketplace will then compare the quotes from vendors in your area in real-time and offer you the best Saudi Riyal rates for your transaction.Step 2: Enter the currency and the amount that you want to exchange. For example, select SAR if you want to exchange INR to SAR along with the amount.Step 3: Upload travel documents online which include traveller's Passport, Visa, Air Ticket and PAN card details and place your order.Step 4: Get your foreign exchange delivered at your home. Benefits of Purchasing Saudi Riyals from BookMyForex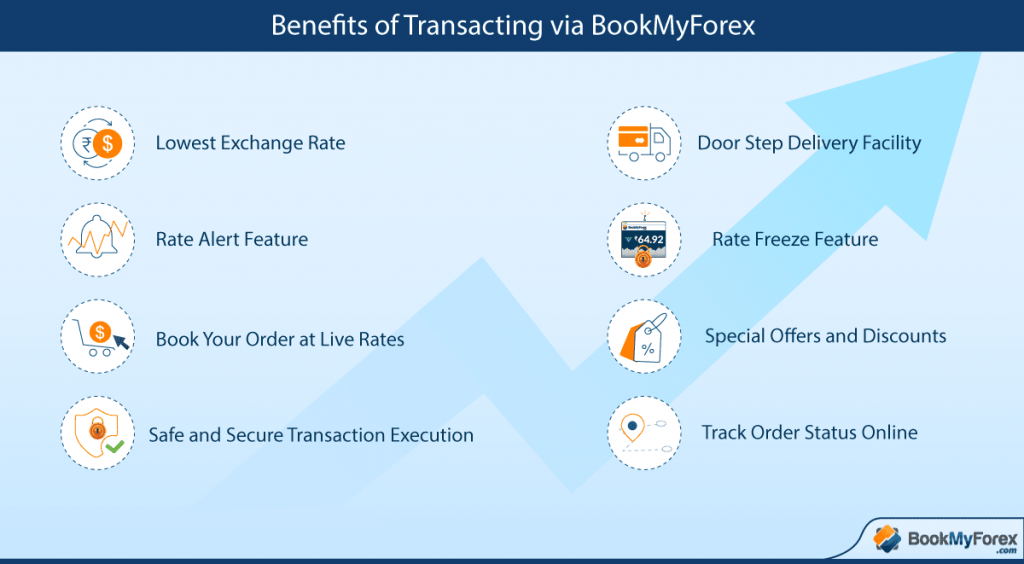 Rate Alert to Track Foreign Exchange Rate OnlineKeeping a continuous track of movement in Saudi Riyal exchange rates can be a bit frustrating.  In case you are looking to buy or sell Saudi Riyals at a particular rate, rather than keeping a tab, you can just use the rate alert feature at BookMyForex.com. It will automatically notify you once the current market rate would strike the pre-set level. 
| | | |
| --- | --- | --- |
| Parameter | BookMyForex | Banks/Money Changers |
| Exchange Rate | At Live Rates (Dynamic) | At Fixed Rates |
| Exchange Rate Margin | Low | High |
| Online Order Facility | Yes | No |
| Doorstep Delivery | Yes | No |
| Rate Alert Feature | Yes | No |
| Branch Visit | No | Required |