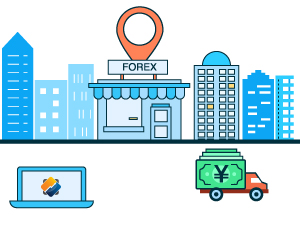 BookMyForex is the first website of its kind where you can order currency exchange online or private remittance order online. We revolutionised the market for foreign exchange in Mumbai. Order currency exchange in Mumbai online and pick up your forex at a BookMyForex location or a partner bank location that are available in all major neighbourhoods including but not exclusive to Kalyan, Malad, west Vashi, Thane, Powai, Borivali, Navi Mumbai etc. Better still, order your forex online and receive your forex (or Indian rupee in exchange of your forex) at your home/office itself. Sell Currency in Mumbai, Buy Currency in Mumbai or Send Money Abroad at better rates than your local currency exchangers in Mumbai. We have the best foreign currency exchange rates in Mumbai. 
BookMyForex allows you to:
Why Use BookMyForex's Money Changing Service in Mumbai?
Get your currency exchanged at rates better than other money exchangers in Mumbai, banks, airports
Live, transparent and consistently competitive exchange rates. No more rate haggling with your local money exchanger in Mumbai.
Book your forex at the exact live currency exchanger rates in Mumbai shown on our site. No exceptions, no surprises
Change your currency directly at bank branches. Avoid unscrupulous money changers in Mumbai and get authentic currency. Guaranteed!
Same-day or next day door delivery service. Free door deliveries for orders over Rs. 50,000
Ability to complete your order from hundreds of locations across India
Save big on other travel-related products such as travel insurance and international calling cards
Get amazing loyalty and referral awards. Earn every time you refer a friend/ family member. Save on every subsequent order
Top class customer facilitation– BookMyForex goes out of its way to deliver the best service standards
BookMyForex.com—the Best Currency Exchange in Mumbai
BookMyForex was conceptualized and established by some of the most renowned people in the Indian forex industry so as to bring transparency in the Mumbai Currency Exchange market. Our CEO has upwards of 25 years of experience in the Indian banking and foreign exchange industry. He has conceptualized and introduced foreign exchange services (FES) as a new business vertical in Indian banking. BookMyForex works hand-in-hand with the largest and most service-oriented banks in India. Our special tie-ups with these banks allow our customers to complete their forex orders at one of over 2500 partner bank branches across India at rates better than what any other money exchanger in Mumbai can offer. Furthermore, thanks to our partner bank's meticulous currency inspection process, you can be assured of getting genuine and authentic currency. This is something a that a smaller Mumbai money exchanger can never offer.
Foreign Currency Exchange in Mumbai at Live Forex Rates
For the first time in India, you can see the live market exchange rates online 24x7 on BookMyForex.com. BookMyForex, unlike other money exchangers in Mumbai, does not apply the same exchange rate for a currency for the whole day. The money exchange rates in Mumbai are kept fixed by the local Money changers in Mumbai unlike us as we operate on live and transparent rates that are available for all to see on our site. We even allow you to freeze these live rates on our site so you get the exact rates that you see on our site as well as other online Mumbai Currency market sites. 
Stop Paying For Foreign Exchange in Mumbai
Armed with a suite of brand new features, BookMyForex brings together a unique blend of technology, large countrywide presence and quality customer support to provide our customers with the best currency exchange rates in Mumbai. With BookMyForex.com, you don't have to pay any hidden fees or charges to convert currency in Mumbai. Exchange your foreign currency back into Indian rupees or Indian rupees to Foreign Currency at exact interbank rates - that's the same rates that you see on search engines, forex sites and business news channels.
Frequently Asked Questions (FAQs)
Q1. Where can in Mumbai I get foreign exchange delivered by BookMyForex? 
Ans. BookMyForex delivers foreign currency at all the major as well as minor locations in Mumbai which include Kalyan, Malad West, Vashi, Thane, Powai, Borivali, Navi Mumbai, Mira Road, Bandra, Andheri East etc.
You can also call at +91-92122191 and a customer service representative would assist you regarding delivery locations in Mumbai.
Q2. How to exchange foreign currency online in Mumbai?
Ans. You can exchange foreign currency online in Mumbai with BookMyForex which is India's first and the largest online currency exchange marketplace. You can either visit bookmyforex.com or simply call at +91-9212219191. 
Simple Steps to Buy or Sell Foreign Exchange at BookMyForex
Step 1: Go to BookMyForex.com or simply call at +91-9212219191
Step 2: Select your city, the currency and enter the amount that you want to exchange
Step 3: Upload KYC documents mandated by the RBI which includes Passport, Visa, Air Ticket    and PAN card details
Step 4: Opt for doorstep delivery or collect your currency from our nearby store on successful payment. That simple!
Q3. How come BookMyForex provides better foreign exchange rates than banks in Mumbai?
Ans. Let's understand why BookMyForex provides one of the best rates on buy or sell foreign exchange compared to other places such as banks or local money changers.
Fixed vs Live Rates:  Unlike other authorized forex dealers which provide foreign exchange at fixed rates in the name of "Today's Currency Exchange Rates", BookMyForex allows its customers to convert currency at the live rates in Mumbai. 
Fixing the foreign exchange rate for the whole day compels banks to keep the higher-margin to tread against any adverse volatility during the day. While, BookMyForex provides its customers with the most recent rate of the foreign currency and thereby, passes the benefit to its customers in the form of the better exchange rate.
Individual vs Aggregator:
On the other hand, to get better rates from banks or such other places to buy/sell a foreign currency you need to go from one bank to others to check and compare the rates which could be a time consuming and tiresome process.
Doorstep Delivery: When you exchange currency from BookMyForex, you not only complete the process of booking from the comfort of your home but you also get your currency delivered right at your doorstep in Mumbai. 
Rate Freeze Feature: With this feature, you can 'lock-in' a specific rate for up to 3 working days by paying a refundable deposit of 2% of your total amount. 
Q4. Can I buy currency at the rate reflected for some other city and get it delivered to Mumbai?
Ans. No, the currency rate is dependent on the demand and supply conditions prevailing in the city, therefore, you can only get currency at the rate reflected in the city, where the forex needs to be delivered (Mumbai in this case). 
Q5. Why does Mumbai have different currency exchange rate than other cities?
Ans.  Currency exchange rates are essentially a function of net supply and demand. While there could be a host of factors such as inflation rate, interest rate, external account situation etc. which can affect forex rate variations at the national level, there are other factors also which can make currency rates vary from a city to city. Usually, currency exchange rates are little higher in tier-II cities as compared to metropolitan areas due to factors like lack of demand, lack of supply, lack of transparency and competition. Further, the exchange rate of some specific currencies may vary even in the metropolitan cities subject to net demand and availability conditions. 
Best Places in Mumbai for Currency Exchange