Many of you must be planning to study abroad. Sudarshan Motwani says it is crucial to have answers to forex-related queries
As the taste of the last sweet faded from the mouth and the finest crockery went back into the shelf again for hibernation till Diwali, Vipul's parents were struck with a troubling thought. Their ward had cleared the entrance exam to one of the finest institutions in Europe, and within a month, he would have to leave. Will he be able to take care of himself? Moreover, will the finances be enough, keeping in mind that uncharted territory of 'foreign exchange'?
India ranks only behind China when it comes to sending students abroad for academic purposes, and the forex problem bothers countless children and parents every year.  The stringent policies, rupee-valuation variables, non-transparent operations of forex providers and the presence of third-party brokers and agents makes acquiring foreign exchange a tiring and convoluted process. First-time travelers can't hope to land a good deal only through their own efforts, and the help of an expert is essential to understand the intricacies of foreign exchange.
Elucidated below are certain areas in which a foreign exchange centered organization can help you out to attain the best deal.
Ensure the total fee amount:
Many times, foreign institutions charge a fee for specific services under different courses that are over and above the tuition/semester fees. These various sub-heads might be essential to fulfill the course's goal, yet add extensively to the overall expenses. In such a scenario, it is essential to take a complete stock beforehand regarding the total amount that needs to be paid and avail opportunities for scholarships, if any.
The policy restrictions:
According to the Liberalised Remittance Scheme, only a sum of $250,000 is allowed to be remitted for educational purposes during a financial year. The documentation, identity proof, a procedure in case of different methods such as transferring through a foreign exchange facilitator organization etc. can only be explained well by an expert. The policies also keep changing, stressing the need for expert assistance even more.
Acquiring the best deal:
Even the slightest change of 10 paise in conversion rate can bring about a rapid upheaval when it comes to bulk transfer. Thus, it is necessary to avail foreign exchange services only from banks or platforms which channelize the remittances through banks itself, which also enable the possibility to hold the rate-of-exchange up to 3 working days. Such platforms enable you to save more than 6.5% on standard bank transactions, which again adds up to a neat sum.
The right procedure:
The most popular overseas transfer process, known as SWIFT (Society for Worldwide Interbank Financial Telecommunication) involves dual charges levied intermediary as well as the beneficiary bank.
On the other hand, forex cards which are marked Visa/Mastercard can be used for transfer as these cards are accepted as international credit or debit cards. Marketplaces like BookMyForex.com levy zero margins* on forex rates and eliminate all the charges for issuing, reloading, unloading or transacting in stores, online and even at ATMs, but only for the first three occurrences.
Travelling to a distant land and an unknown culture is a daunting thought in itself. By keeping the aforementioned tips in mind, one can largely reduce the anxiety specifically corresponding to finances, thus ensuring that the goodbye is a happy and a hopeful one, not marred by worrisome thoughts of lack of security.
(The post appeared first in Daily Pioneer on 18 Oct 2017)
*Zero margin rates/ interbank rates are available only on forex cards and in select cities.s.
To transfer money abroad for studies or any other purposes, visit our website or call us on 09212219191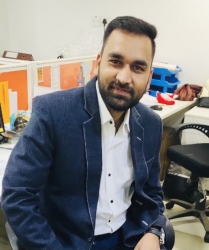 Latest posts by Manik Varshney
(see all)