Have you recently been to Sweden? Do you have Swedish Krona (SEK) left with you? Are you clueless about what to do with it? Do not worry at all. There is a bunch of considerations that you should take into account when looking to convert SEK  to INR. Firstly, you should avoid exchanging money at the airport since the exchange rates at the airport are extremely high. Most money exchangers you approach will also offer an unfavorable rate for exotic currencies such as Swedish Krona. These rates can be as much as 6% – 10% over the interbank rates. So where should you go to get the best exchange rates to convert SEK to INR?
BookMyForex through, its multiple banking relationships, can offer a fairly competitive rate for converting SEK to INR and the other way around. Even though the availability of Swedish Krona (SEK) currency notes in India is normally pretty sparse, thanks to our Swedish Krona prepaid forex cards we can always guarantee the availability of SEK currency. Not only that, our SEK prepaid forex cards are also available at great rates that are around 1% higher than interbank rates.
We at BookMyForex facilitate an array of unparalleled products and services which are made solely to be in sync with your comfort. We have an easy-to-use web portal through which you book an order to change Indian Rupees to Swedish Krona and vice-versa. Our website is fully-featured with a number of simple steps that will guide you efficiently towards completing a transaction, i.e., placing an order to convert SEK to INR. All of our orders are executed at live rates, which are updates in real time. We also provide you with the option to book/ block the live rates see on our site through the "Freeze Rate" option.
You can complete the currency exchange as per the rates shown on our website. You can convert SEK to INR at the exact rate of any moment. In addition to this, we provide home and office delivery service as well in order to maximize your convenience. We also give you a No Obligation order option, which enables you to complete a booking without making any payment online. You can also go to any BookMyForex or Axis Bank branch to collect you money. Whatever your exchange need is, we are always just a click away.
Related Post:-
Tips – Travelling to Sweden from India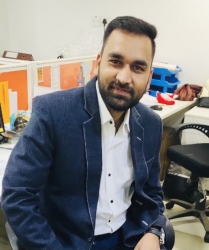 Latest posts by Manik Varshney
(see all)