AED to INR Forecast for 2020
| | | |
| --- | --- | --- |
| Currency Pair | Forecast High | Forecast Low |
| AED to INR (Today's) | | |
| AED to INR (Full Year) | 19.75 | 18.50 |
AED to INR Forecast UAE Dirham has been fixed around 3.67 against the dollar over the last decade or so and volatility is extremely low. All the moves in AED to INR are therefore nearly linked to the volatility in the Indian rupee. The USD to INR rate, therefore, determines the AED to INR rate and this cross will go in line with the rupee. UAE Dirhams to Indian Rupee (AED to INR) exchange rate has been trading in 19.00-19.75 band over the last six months and we expect that band to hold for most of 2020.
However, the rupee should gain either on account of large inflows through the year or a major slide of the global crude prices, which can make AED to INR exchange rate to move toward 18.50. However, the cap at 19.50 should hold the upside for next year. It is, therefore, the AED to INR exchange rate should remain in 18.50-19.75 the trading band for the year 2020.
About UAE Dirham
United Arab Emirate Dirham is the official currency of the UAE. It is also abbreviated as AED in the international currency exchange market. Dubai is one of the most sought travel destinations in the UAE and that is why AED is also known as Dubai currency in India.
The United Arab Emirates Dirham has been used since 1973, when it replaced several currencies, such as the Dubai riyal and the Qatar riyal. Dubai Dirham is also subdivided into 100 fils. The Central Bank of United Arab Emirates is the issuing and managing authority of UAE Dirhams.
Click Here to Know More About UAE Dirham
History of AED to INR Exchange Rate
As mentioned before, UAE operates on the fixed exchange rate system where the UAE Dirham is pegged against the US Dollar, the strongest currency of the world. So the AED to INR movement is indirectly determined by the movement in the USD to INR exchange rates.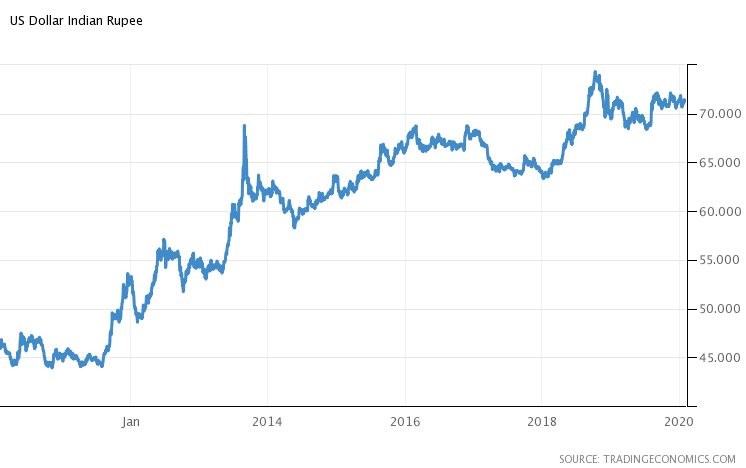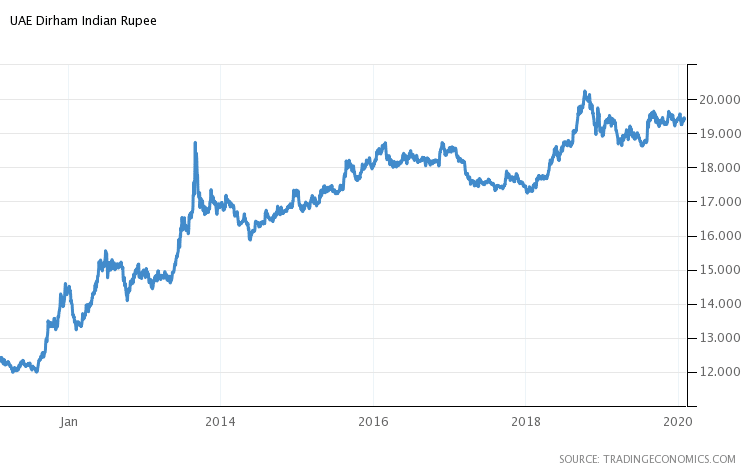 The graphs shown in the above two images may appear to be similar. However, the first image represents the 10 year movement in the USD to INR exchange rate. On the other hand, the second image graphically represents 10 Year movement in the AED to INR exchange rates. Looking at both the pictures, it should be clear that the AED to INR exchange rate is dependent on the movements in USDINR exchange rates.