Getting the best available GBP Rate Today in Gurgaon with BookMyForex
Are you looking out to purchase British Pound in Gurgaon? But tired of negotiating with banks and other local money changes to get the best British Pound rates? Now look nowhere, just buy/sell British Pounds or convert GBP to INR online at BookMyForex.com at the best British Pound Rates and get it delivered directly to your home! 
Isn't that amazing? Find out how!
BookMyForex is India's first and largest online currency exchange market which provides a suite of forex related services which include foreign currency notes, prepaid forex card, Traveller's cheque, demand draft and wire transfer.
Why should you purchase British Pound (GBP) from BookMyForex?
British Pound is the official currency of Britain and you would need it in cash/digital form every time you visit in Gurgaon. Though you can purchase British Pounds in Gurgaon from numerous places including banks, local money changers, or at the airport itself, however, that would involve sparing time to visit such places, rates comparison and negotiation, going through a complex documentation process. Still, there is no surety that you would get the best GBP rates in the market.
However, on the other hand, you can not only see and compare GBP rates at BookMyForex but also ask for better rates or freeze GBP rates for 3 days with the comfort of your home and also get British Pounds delivered directly to your home, most probably on the same day.
Why BooKMyForex provides better British Pound rates in Gurgaon than banks?
When you convert GBP to INR and vice versa, with BookMyForex you save almost 2.5% - 6.5% over banks and money changers. To help you pick better, here is a comparative analysis between BookMyForex and other money changers.

How to buy/sell British Pounds (GBP) in Gurgaon from BookMyForex?You can buy/sell British Pounds or convert GBP to INR  in Delhi from BookMyForex in four easy steps: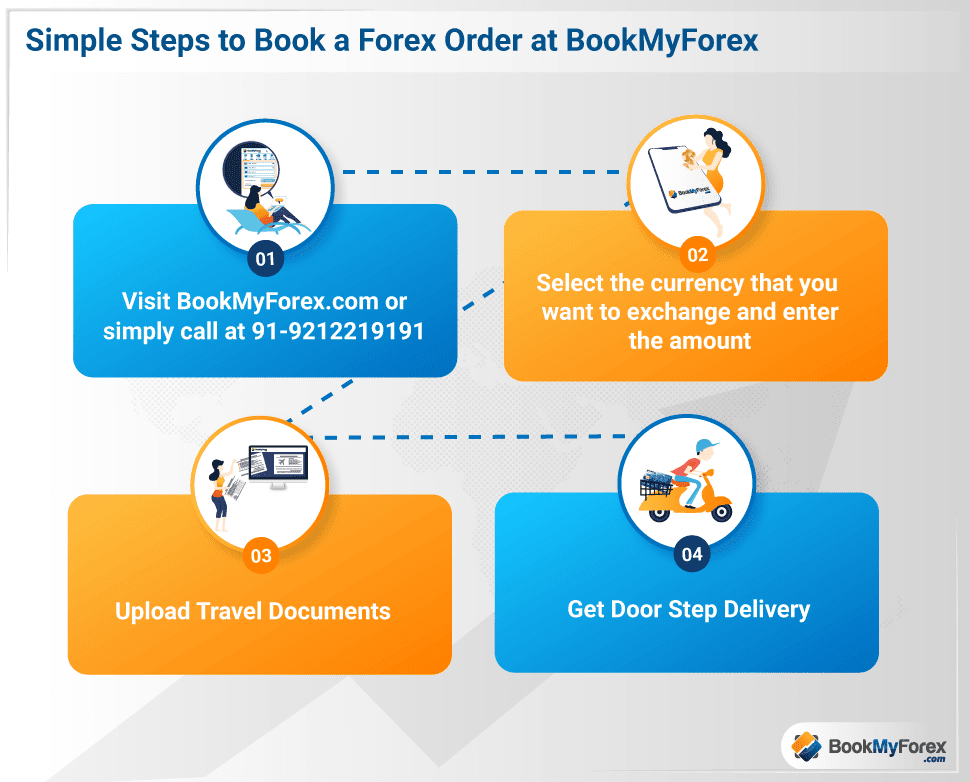 Q1. What are the documents required to buy/sell British Pound in Gurgaon?Ans. As per the guidelines released by the Reserve Bank of India, the following documents are required to buy/sell British Pound or convert GBP to INR in India:
Passport
Visa
Air Ticket
PAN Card
Note: BookMyForex provides you with the facility to upload these documents online with the comfort of your home.
Q2. What is Rate Alert feature for getting the best British Pounds rates online?Using the rate alert feature available at BookMyForex.com, you can save yourself from keeping the tab on rates. The rate alert feature allows you to set the rates at the levels you want to purchase and then BookMyForex automatically notifies you when the British Pound strike that rate.  
| | | |
| --- | --- | --- |
| Parameter | BookMyForex | Banks/Money Changers |
| Exchange Rate | At Live Rates (Dynamic) | At Fixed Rates |
| Exchange Rate Margin | Low | High |
| Online Order Facility | Yes | No |
| Doorstep Delivery | Yes | No |
| Rate Alert Feature | Yes | No |
| Branch Visit | No | Required |