Getting the best available EUR Rate Today in Noida with BookMyForex
Europe is an amazing destination for a getaway. The historical locations, scenic beauty and cultural diversity across European countries have made it even more popular. If you are planning a trip to Europe and are still confused about where to get your Euros at the best INR to EUR rates in Noida, now look no further, simply visit BookMyForex.com
BookMyForex is an online foreign exchange marketplace, that compares rates across hundreds of partner banks and forex institutes and connects you with the most reliable and economical option around you in Noida.
While offering you foreign exchange at live rates, BookMyForex helps you surpass the conventional ways of getting foreign currency through moneychangers and banks which offer you a fixed exchange rate in the name of "Today's Euro Rates in Noida".
Benefits of Buying Euro from BookMyForex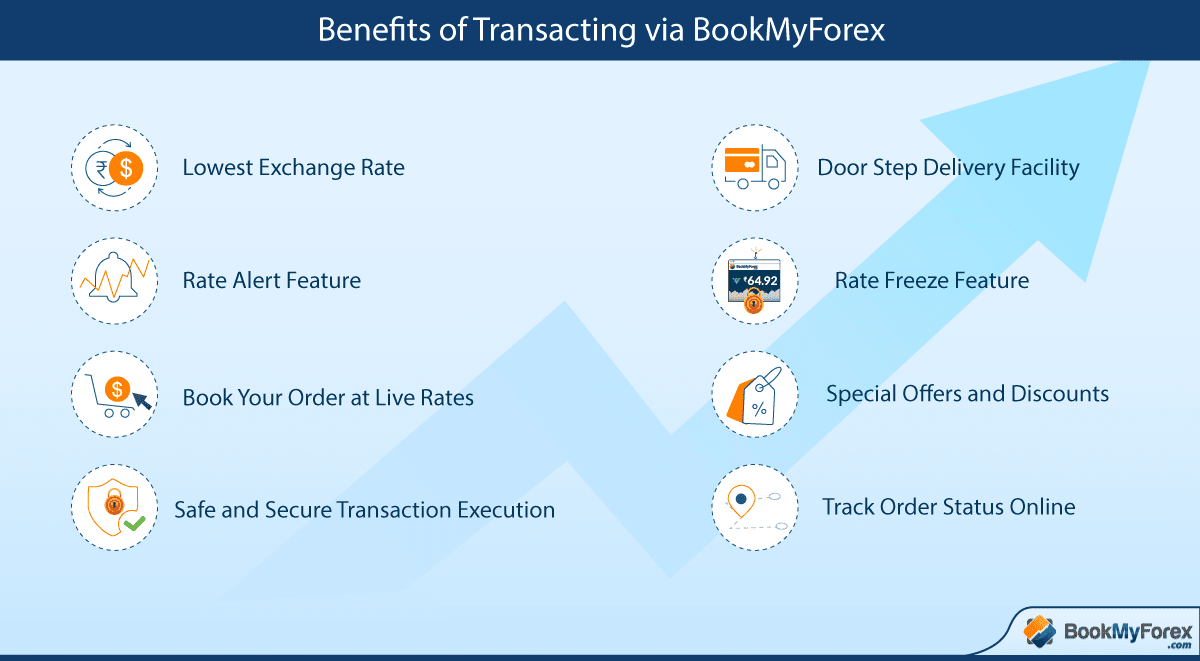 — Guaranteed better rates than banks, airports and money exchangers
— Live, transparent and consistently competitive exchange rates.
— Freeze or Lock-in the exchange rates for a 2% refundable advance fee
— Same day* or next-day door delivery service.
— 5,000+ partnering forex locations across 650 cities in India
— Excellent Loyalty and referral schemes - earn money by referring your friends. Save money on every subsequent order.
—Email/Rate alerts - Get notified when the rates reach the level you want.
—Best customer support, available 24x7 on every medium (FB/Twitter/Call/Email)
*Orders booked before 2 PM are available for same-day delivery
How to convert EUR to INR and vice versa with BookMyForex?
You can buy/sell Euros in four simple steps via BookMyForex:
Step 1: Visit www.bookmyforex.com or simply call at +91-9212219191
Step 2: Select INR to EUR and enter the amount you want to exchange.
Step 3: Upload the necessary documents mentioned on the website.
Step 4: Get the Door Step Delivery.
Reasons you should buy Euros from BookMyForex over other moneychangers
BookMyForex is an online platform, which digitally connects you with the most reliable forex vendor around you. Conventionally, moneychangers and banks provide currency at fixed rates throughout the day. With BookMyForex you get dynamic rates that help you save money while transacting for Euros.
Here is a comparative analysis that can help you choose a better option for getting the best Euro rates in Noida.
| Parameter | BookMyForex | Banks/Money Changers |
| --- | --- | --- |
| Exchange Rate | At Live Rates (Dynamic) | At Fixed Rates |
| Exchange Rate Margin | Low | High |
| Online Order Facility | Yes | No |
| Doorstep Delivery | Yes | No |
| Rate Alert Feature | Yes | No |
| Branch Visit | No | Required |
Why the term "Today's Euro Rates in Noida" can cost you dear?
Most of the banks and other authorized money changers in Noida provide you with a fixed exchange rate in Noida in the name of "Today's Euro Exchange Rates in Noida" which is essentially a misnomer.
As the foreign exchange market is highly volatile in nature, fixing the foreign exchange rate requires to keep higher margins to keep a buffer against any adverse currency movements. Higher margins mean the customer pays a higher exchange rate. Further, there are multiple currency conversion charges are involved with a forex transaction.
To solve this issue and bring transparency in the forex market, BookMyForex provides currency exchange at the live rates. The key differentiator here is the dynamic rates as BookMyForex charges you rates based on real-time data feeds so as to offer the best Euro rates in Noida. Also, there are no hidden charges involved.